Streetwise outsold almost every classical recording in 1991. The project succeeded in crossing over to the rock charts in American record stores. The charts in the left column are from Warner Electra Atlantc Distribution. The charts in the right column are from Sterling Ventures, or Rose Record's, formerly the largest retail chain in Chicago.

March 18, 1991: About two and a half weeks after Streetwise was released. Retail chains had ordered 13,060 units. Streetwise shipped over 12,000 units the first week, about 20X more than the average classical release on a major label. The numbers  that indicate customer orders are critical, because record stores only order more units if the existing stock in being purchased by customers. The day this report was run, there were 282 additional units purchased. There were 649 new orders in 10 days.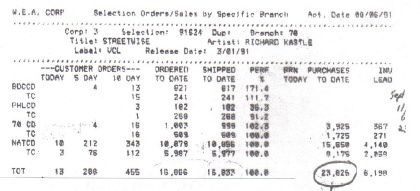 August 6, 1991: Five months after the release, branch purchases were at 23,825, with 455 new orders in 10 days. 
March 18, 1991: This is the breakdown of purchases in each city from the initial release. The concerts in Venice Beach paid off as Los Angeles ordered the most units, 1,257 CD's and 528 cassettes.